Linda C. Estes McClung
Ponca City Now - September 12, 2017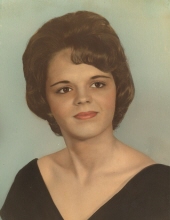 Linda Estes McClung
February 9, 1946 – September 10, 2017
Linda Estes McClung, age 71, long time resident of Ponca City, passed away Sunday September 10, 2017 at her home.
A graveside ceremony to celebrate her life will be held at 2:00 PM Thursday, September 14, 2017 at Resthaven Memorial Park with Chaplain Tom Howard officiating. Arrangements are under the direction of Trout Funeral Home & Crematory.
Linda was born on February 9, 1946 to Wynfred Estes and Jewel Williams Estes in Orange, CA. Linda was raised in Ponca City, graduating high school in 1964. In August of 1963, she married the love of her life Allan Ray McClung in Ponca City. Over the years, Linda and Allan owned and operated McClung's APCO at 2 locations in Ponca City for nearly 40 years. Linda loved traveling with Allan and having fun out playing pool or spending time with friends. She also enjoyed caring for her home, tending carefully to her plants and lovingly caring for her kitties. Later in life, Linda took to crocheting. Throughout it all, Linda was a great friend to Allan, whether at work or play, their time together was joy for them both. Her devotion to the family was evident in all she did.
Survivors include her beloved husband Allan of the home, adored sons: Kip McClung and wife Julie of Tulsa, OK, Kevin McClung of Ponca City, Shawn McClung of Fulfurrias, TX, 9 treasured grandchildren and 4 cherished great grandchildren. Linda was preceded in death by her parents, sister Pam Estes and brother Wynfred Estes, Jr.
Memorial donations may be provided to the Hospice of North Central Oklahoma, 445 N. Fairview, Ponca City, OK 74601.
Source: Trout Funeral Home
https://www.poncacitynow.com/obituaries/obituary-for-linda-mcclung/