Barbara K. Burkett Oberholtzer
aCremation, Sept. 6, 2017

Barbara Kay (Burkett) Oberholtzer
1944 - 2017 Obituary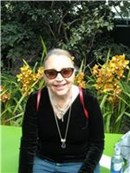 On the morning of August 1, 2017 Barbara Kay Burkett Oberholtzer succumbed to the inevitability of Alzheimer's disease.
Barbara was born in Mexia, Texas on October 12, 1944 to George and Roy Burkett. She spent her life biking, running, skiing, rowing, dancing, traveling the world and caring for a renowned cast of adopted dogs and cats. She opened her homes in Dallas, TX and Norwalk, CT to anyone who needed some love and a place to rest. She kept everyone in her life laughing, especially her daughters Samantha and Jordan and her husband Ed.
From the moment of the Alzheimer's diagnosis, Barbara faced every step of her decline with her infectious, mischievous smile. During that twelve years, she did not utter anything resembling a complaint or show a hint of self-pity. For a time, she was well aware of her eroding condition. She simply chose to live life as fully as her body with its failing brain would permit at any given moment.
Her last breath was quiet and peaceful reflecting the reality that living with Alzheimer's is not a battle that can be fought as the outcome is never in question. She faced it though with courage and grace.
Barbara is survived by her husband, Ed Oberholtzer, her daughter and son-in-law, Jordan and Zac Matthews and her sisters-in-law Sharon Compton and Carol Cantrell.
Anyone wishing to remember her should support your local Alzheimer's chapter with money and prayer.
A memorial service is being planned for early October in Aspen, her favorite place … on earth.
Published online on Sept. 6, 2017 courtesy of aCremation.
aCremation
DFW, TX
1-877-353-3626
http://www.legacy.com/obituaries/legacy/obituary.aspx?n=barbara-kay-oberholtzer-burkett&pid=186583030