Jorean B. Hood Smith
Robertson Funeral Directors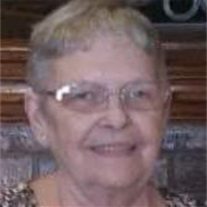 Jorean Smith
March 20, 1939 - July 7, 2017
SERVICES - A Celebration of Life will be at a later date in 2018.
CREMATION & ARRANGEMENTS - Robertson Funeral Directors of Claude.
BIOGRAPHY - Jorean Hood Smith died peacefully at the age of 78.
She was born to Joe and Lorean Hood on March 20, 1939. Grew up in Claude and was a Claude High School graduate.
Married J.B. Smith Jr. in 1959. Resided in Claude. J. B. worked at the Claude Highway Department, and Jorean worked at Levi Strauss until they closed. They both had the J and J Chimney Sweep business until fully retiring. Loved hunting, fishing and NASCAR.
PRECEDED IN DEATH BY - her husband, J. B, Smith Jr.; Parents, Joe and Lorean Hood; In-Laws, Burnard and Bea Smith. Brother, Don.
SURVIVORS - son, Gary Smith (Marilyn) Roundrock,Texas; daughter, Shari Hemenway (Alan) Hibbing, Minnesota; brother, John Hood (Marlinda) Abilene, Texas; sister, Janie Marlan (Mike) Windsor, Colorado; sister-in-law Sandra Thomas (Tony) Amarillo, Texas. Four Grandsons, Zach and Josh Smith; Chris and Kyle Hemenway. Nieces and Nephews.
MEMORIALS- The family request memorials be sent to the Alzheimer's Association.
Would like to thank Jill Benson and the Hudson House Employees, for taking care of our Mother until the last. My Aunt Sandra for being there always for her. And Kindred Hospice for making her last days as comfortable and peaceful as possible. Thank you!
http://www.robertsonfuneral.com/obituaries/Jorean-Smith/#!/Obituary